During our Pet Event on Oct. 17th, we will be taking pictures of the newly adopted pets and anyone that would like to bring their furry friend down for pictures! We encourage you to bring your pets down to hang out and for pictures even if you aren't adopting! We will be charging $5 for pictures and we will send them to your email address. 100% of the money will be donated to Roane County Animal Shelter! We will also be making dog treats and selling them for the same amount! Any donations of food or money are welcome of course! Please LIKE,SHARE AND COMMENT, for a chance to win a free picture and bag of treats! ‪#‎SubaruLovesPets‬





Share The Love
2014
Annual Canned Food Drive
Bring in 3 cans of Food or a Bag of Dog/Cat Food and Get $5.00 off of Your Service Bill
C.A.S.A
The mission of the National Court Appointed Special Advocate (CASA) Association, together with its state and local members, is to support and promote court-appointed volunteer advocacy so that every abused or neglected child can be safe, establish permanence and have the opportunity to thrive."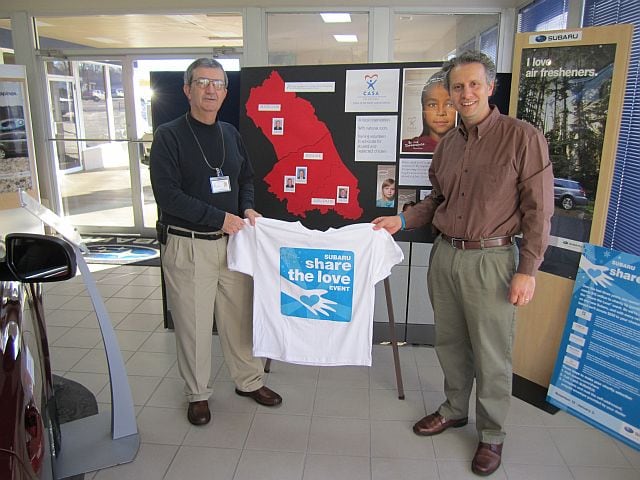 Roane County Humane Society Needs You!
They are currently in Urgent need of Foster parents. Call Freddie @ 865-376-2474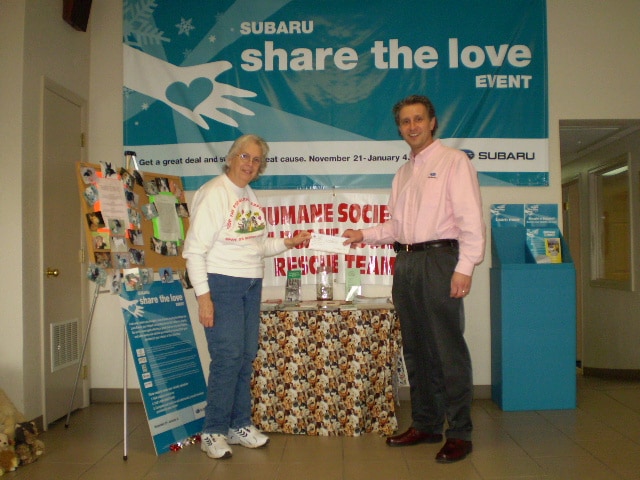 Roane County Humane Society
109 Bream Lane
Kingston, TN 37763
Phone: 865-376-2474

Email: matsingerg@bellsouth.net


2014 Customer Appreciation Event Pics and News Coming Soon!!!


4th Annual Customer Appreciation Meet
August 24th we held our 4th annual customer appreciation meet.  We had an incredible turnout with 50+ cars showing up.  We had everything from a Subaru Brat and GL to Brand new STI's.  As usual we had great support from Knoxville Subaru Owners Club (KSOC) who and many members show up in their great sounding subies.  We also had Mitchell Branch make the trek all the may from Oregon to be with us!  Thank you to all who support us all year long and continue to buys cars from us and have service done here!


Love Strikes Twice!


Subaru has some incredible offers right now on Certified Pre Owned vehicles. Take advantage of these offerings and save yourself a little money in the process. This has been a great year for Subaru and for our customers!

Check out some of these advantages when you purchase a certified Subaru.



Certified Pre-Owned
7-year/100,000 mile Powertrain plan
No deductible
Factory-backed coverage


CARFAX Vehicle History Report and Buyback Guarantee
24/7 Roadside Assitance
152-point inspection and reconditioning
1 No deductible applies to standard security plans only.





All-new 2013 Subaru BRZ Awarded IIHS 2012 TOP SAFETY PICK
New Subaru BRZ sports car earned highest-possible rating in IIHS evaluations
Subaru remains the only car manufacturer with 2012 IIHS TOP SAFETY PICKs for all models
CHERRY HILL, N.J., Sept. 10, 2012 -- Subaru of America, Inc. today announced that the Insurance Institute for Highway Safety (IIHS) has recognized the all-new 2013 Subaru BRZ as a 2012 TOP SAFETY PICK. Subaru remains the only manufacturer with 2012 IIHS TOP SAFETY PICKs for all models.
The all-new 2013 BRZ earned a "good" rating ? the top rank ? in the moderate overlap frontal, side, rollover and rear impact evaluations.
"With BRZ, Subaru has brought back the affordable sports car; and FHI engineering in the product has led not only to great driving fun but also top safety marks," said Thomas J. Doll, executive vice president and COO, Subaru of America, Inc. "We are passionate and uncompromising in our commitment to safety. Subaru is thrilled to continue as an industry leader in this area."
The TOP SAFETY PICK recognizes vehicles that, in IIHS testing, do the best job of protecting people in front, side, rear, and now rollover crashes based on 'good' ratings in each category. The IIHS ranks in terms of Good, Acceptable, Marginal and Poor, with 'good' as the top rank possible in Institute tests. Winners also must have electronic stability control.
"For three years running, Subaru is the only automotive manufacturer with the distinction of earning IIHS TOP SAFETY PICK awards for every model it builds," said Institute president Adrian Lund. "It's tough to win, and we commend Subaru for making safety a top priority."
About IIHS
The Institute's frontal crashworthiness evaluations are based on results of a moderate overlap frontal crash test. Each vehicle's overall evaluation is based on measurements of intrusion into the occupant compartment, injury measures recorded on a 50th percentile male Hybrid III dummy in the driver seat, and analysis of slow-motion film to assess how well the restraint system controlled dummy movement during the test.
Side evaluations are based on performance in a crash test in which the side of a vehicle is struck by a barrier moving at 31 mph. The barrier represents the front end of a pickup or SUV. Ratings reflect injury measures recorded on 2-instrumented SID-IIs dummies representing a small (5th percentile) woman, assessment of head protection countermeasures, and the vehicle's structural performance during the impact.
Rear crash protection is rated according to a two-step procedure. Starting points for the ratings are measurements of head restraint geometry -- the height of a restraint and its horizontal distance behind the back of the head of an average size man. Seat/head restraints with good or acceptable geometry are tested dynamically using a dummy that measures forces on the neck. This test simulates a collision in which a stationary vehicle is struck in the rear at 20 mph. Seats without good or acceptable geometry are rated poor overall because they can't be positioned to protect many people.
In the roof strength test, a metal plate is pushed against 1 side of a roof at a constant speed. To earn a good rating for rollover protection, the roof must withstand a force of 4 times the vehicle's weight before reaching 5 inches of crush. This is called a strength-to-weight ratio. For an acceptable rating, the minimum required strength-to-weight ratio is 3.25. A marginal rating value is 2.5. Anything lower than that is rated poor
Subaru of America, Inc. Continues Hot Streak As August Sales Mark Nine Consecutive Months Of Gains
- August sales 35% increase over 2011
- Year-to-date sales of 217,780 a 25 percent increase over 2011
CHERRY HILL, N.J., Sept. 4, 2012 -- Subaru of America, Inc. today reported sales of 28,293 vehicles for the month of August. The company also reported year-to-date sales of 217,780, which represents an impressive 24.7 percent increase over prior year.
Sales for newly-refreshed Outback and Legacy models have increased 49 percent and 18 percent for the month respectively. Sales for the all-new Impreza -- America's most fuel efficient all-wheel drive vehicle -- have increased 150 percent year-to-date.
"Subaru is giving consumers exactly what they want ? no-compromises, safe, and fun to drive vehicles," said Thomas J. Doll, executive vice president and COO, Subaru of America, Inc. "Our all-wheel drive SUVs and sedans are hitting the sweet spot for buyers. We are also seeing an overwhelmingly positive reception for the newly-introduced BRZ sports car and expect similar sentiment when XV Crosstrek hits the showrooms this month."
"Our strong sales are a result of Subaru owner loyalty and buyers coming to the brand for the first time," said Bill Cyphers, senior vice president of sales, Subaru of America, Inc. "The mix of brand loyalty and new Subaru buyers represent a healthy foundation for aggressive sales growth we expect to achieve this year."



Fun Times:


October 14, 2012
8:30 AM EDT - 1:30 PM EDT
The Series will visit Atlanta on October 14th and features 5K and 10K off-road courses.














Remodeling is complete!!!