The 2022 Subaru Love Promise Customer and Community Commitment Award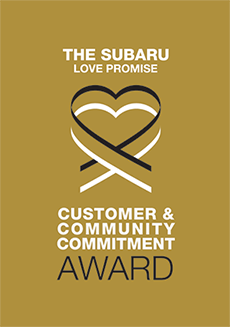 We've been nationally recognized for our dedication to our customers, our community, and the Subaru Love Promise.
We're honored to receive the 2022 Subaru Love Promise Customer and Community Commitment Award. This award nationally recognizes elite Subaru retailers who provide an exceptional customer experience at every interaction with Subaru. These retailers have also demonstrated an outstanding commitment to supporting passions and causes in their local communities in important areas such as the environment, community, health, education, and pets.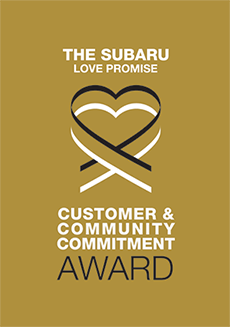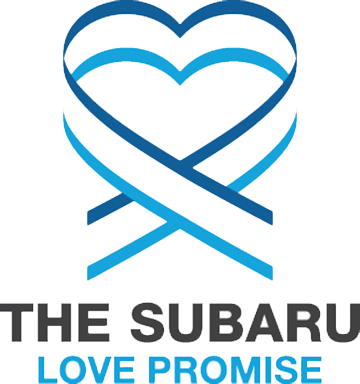 What is the Subaru Love Promise?
Subaru and our retailers believe in making the world a better place and the Subaru Love Promise is our vision of respecting all people. This is our commitment to show love and respect to our customers and to work to make a positive impact in the world.
How is Earl Duff Subaru dedicated locally to the Love Promise?
Our Love Promise can be seen in various partnerships with local charities and non-profits. We're grateful for the opportunity, not only to be a part of our community, but to serve it as well.
Roane County Humane Society
C.A.S.A, Courts of Praise Food Bank
Love Promise Stories from Earl Duff Subaru
Subaru and Earl Duff Subaru believe in making a positive impact on the communities in which we live and work. We uphold that belief through our Love Promise Community Commitment. Every month, we select inspiring stories from customers and partners from around our area who strive to support our collective commitment and feature them here
Subaru Loves Pets - Stacey W
Throughout the month of October 2021, the Roane County Animal Shelter has had great success with adoptions, getting many pets spayed/ neutered and rabies vaccinated, and increased community support with the partnership we have with Earl Duff Subaru! We are so grateful to be a part of such amazing people who care deeply for their county, pets and people! We would not be able to do the things we do without their support! Not only October of this year, but year round, they're always here to help and support us! Earl Duff Subaru along with the ASPCA helped make our annual Hoot-N-Howl Adoption Event a huge success! Thank you for all you do, Earl Duff Subaru!! We love you all!!
---
Subaru's Love of Community - Connie M
Subaru in Roane County demonstrated a great love of community this past weekend. A local family, while attending a Children's Program at the Harriman Public Library received the news that their home was on fire. The family left as quickly as possible. Unfortunately, all was lost. Praise God, no one was hurt! This family is very dear to the library & community. I wanted to help as much as possible. We have asked local churches & businesses to donate toward their down payment of a home. Some have been generous. Some have really stepped up! Earl Duff Subaru is one of the most generous & loving business' that I have had the privilege of working with. Last Saturday, Robin Duff took the four children ages one through thirteen to Walmart & bought over a $1000 of essentials! I can not say enough about this company! They have a heart of gold.THANK YOU EARL DUFF SUBARU! You continue to amaze me. May God bless you all abundantly!
---
I Speak for Them - CASA of the Tennessee Valley C
In the midst of a desperate time in her life, a mother let her boyfriend (the children's father) care for her children. The father and mother were never married. These two children were only 3 months and 2yrs of age. The children were left with their father who lived in a town miles away from their mother. The Father filed for custody soon after receiving physical custody of the children. When the Father filed for custody the Judge ordered CASA into the home to see exactly what was going on. The CASA Advocate started their investigation. The CASA Advocate conducted home studies at the Father's home and did a routine background checks. These background checks showed several concerning findings. The advocate diligently searched through medical records for these children and found that these children had not been to the doctor for a well check or immunizations, these children had been medically neglected. After everything that was found and checked by the advocate, there was a court date. The CASA Advocate put into their report findings all that they had gathered and made court recommendations for the father and mother to be drug tested at court. The mother and the father showed up for the hearing. The Judge ordered both to be tested and the test results that day were positive for cocaine, heroin, and marijuana. The children were then put into the states custody. Because of the proactive and watchful actions of the Roane County CASA advocate, these children are up to date on their medical needs and being loved and cared for by some great foster parents.
---
Girls Inc. Appreciates Earl Duff Subaru - Kirby D
Girls Inc. of TN Valley is a proud to partner with Earl Duff Subaru to continue to inspire girls in our community to be strong, smart, and bold! Earl Duff supported our Girls Inc. programs last year during the COVID-19 pandemic, and continued to help us and support our programs financially through a very difficult year. We are so excited that they have continued their support for the 2021 year to help us continue to support highest need girls in our community through education and empowerment initiatives!
---
Big thank you to Earl Duff Subaru! - Stacey W
With their ongoing support, we have been able to rehome so many pets and help get them vetted! Through donations from Earl Duff Subaru and grants sponsored by Subaru and the ASPCA, we have been able to help Roane County Animal Shelter pets have healthier and happier lives. We have been able to spay and neuter, rabies vaccinate and even cover adoption fees for our adopters. Education and resources we have been able to provide along with the help from Earl Duff Subaru and the ASPCA has improved our whole county, and many folks have joined us on our mission to reduce the number of strays in our area. Together, we are making a difference, one pet at a time! Here's a happy tale from one of our adopters: "Just wanted to say a quick thank you again!! Our Luna is sooooo loved already!!! She's an absolute perfect matching puzzle piece for us, that we didn't even know we needed!!"
---
Subaru supports Roane County Students - Nancy C
These are hard times for so very many Roane County students and families. Schools have become the front line access point to many families and children who need help. Earl Duff Subaru reached out to the Family Resource Center at Roane County Schools to see how they can help. They were given a wish list of items students often need to come to school, learn and be successful. We were provided with an entire carload of needed supplies. This included toiletry items, socks and underwear, and gas cards. Many of our students need to attend specialist doctor appointments and mental health services in Knoxville and the family often doesn't have the money for gas to and from these essential services. The items donated will be added to the Family Resource Room that serves all 17 Roane County Schools through the Student Support department. Thanks Earl Duff Subaru for generously reaching out to us to serve our students and families!!!
---
Imagine Your Story - Connie M
Earl Duff Subaru Harriman, TN supports the arts & continuing education of children in our community. Even during a pandemic, Tim Duff made sure to promote and provide ways for the children to enjoy our summer reading program, "Imagine Your Story". The children were unable to come physically to the library, but were able to enjoy it online in the safety of their homes. Thank you Tim Duff/Earl Duff Subaru for your continuing love & educational well being of our children. You are a blessing to Harriman! Sincerely, Connie Massingill Harriman Public Library Children's Librarian/Assistant Director
---
Helping Hungry Families - Nancy C
Roane County TN Schools' Family Resource Center was very pleased to collaborate with Earl Duff Subaru in Harriman, TN to feed hungry families in our community. On May 20, 2020 Earl Duff Subaru partnered with the RCS Family Resource Center, Compassion Ministries, and Second Harvest of East Tennessee to create emergency food boxes.Because children and families were not able to come into the school due to COVID-19, a drive up food distribution provided much needed food to 100 local families. Because of Earl Duff Subaru, families from all over our county were able to safely drive up to Midtown Educational Center and receive much needed food during this difficult time. All of our lives have been disrupted by this pandemic. Thanks in part to Earl Duff Subaru, families don't have to feel alone. Together we can help students and families in such a clear and tangible way. Hope for a better future and compassion for our struggling families is alive in East Tennessee!
---
Make A Wish East Tennessee - Garrett W
I wanted to take this opportunity to send our sincerest thanks to everyone at Earl Duff Subaru for supporting the 2019 Share The Love Event. Please share my thanks with Tim and the whole team. Your dealership raised more than $2,300 for Make-A-Wish. We'd love to come by and do a check presentation to celebrate the 2019 contribution. As you know, Make-A-Wish was one of the four national charities that benefitted from Share The Love last year, but what you might not realize is that Make-A-Wish East Tennessee, right here in your neighborhood, receives the funds raised locally. These funds are used to help grant wishes for kids like Lydia, age 17, who wished to have a French bulldog. There's more information about Lydia's wish attached. We are thrilled to be one of four national charities participating in 2020's Share The Love event. We'd love to work with you and your team to coordinate an event in support of Share The Love this November or December. We have several ideas for ways in which we can help drive traffic to your dealership and increase awareness of the incredible commitment Subaru has to helping support local communities and local wish kids. With COVID-19, new health worries are also present, bringing added isolation and vulnerability for wish kids and their families. While fighting their illness, children are now anxiously counting the days until their wish will be granted. Now more than ever, hope is essential. Thanks to the support from Subaru of America and Subaru retailers across the country, just like you, we were able to grant more than 2,500 wishes the past nine years. We look forward to working together this year to bring experiences of hope and joy to waiting wish kids in East Tennessee. Please let me know when you'd be available to set up a call to discuss ideas for the 2020 Share The Love event. Thank you for all that you do to help make wishes come true. Sincerely, Garrett Garrett Wagley CEO Make-A-Wish® East Tennessee
---
Make a Dog's Day - Andy A
Subaru is proud to establish the first-ever National Make A Dog's Day October 22nd. As part of Subaru Loves Pets month, we're inviting all dog lovers to do something extra special for their furry best friends. Plus, Subaru will be focusing our efforts on helping the hardest-to-adopt shelter Dogs –those with special needs-find homes. Get ready to fall in love withThe Underdogs. #MakeADogsDay Meet Gabi! Gabi has been at the Humane Society of NWGA (Northwest Georgia) for seven years. If you asked the volunteers to pick their favorite animal at the shelter, Gabi would win hands down. She does not do well with dogs or cats so must be the only animal in an adult only family. She loves people and will bond very quickly to you. Gabi would make someone a great companion. She is waiting patiently for her forever home. If you have room in your heart and your home for this sweet girl then please fill out an adoption application, highlight and right click this link: https://hsnwga.org/adoption/application-for-adoption/?fbclid=IwAR2Ie18p6U3ryKi-niIuIZFTd-waD98xrySl7IJmiRBXE239WP7dpODubiU #MakeADogsDay #SubaruLovesPets #TheUnderdogs
---