The 2021 Subaru Love Promise Customer and Community Commitment Award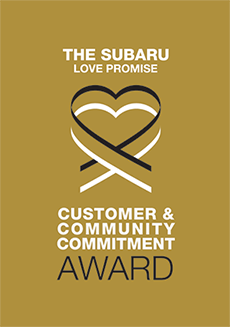 We've been nationally recognized for our dedication to our customers, our community, and the Subaru Love Promise.
We're honored to receive the 2021 Subaru Love Promise Customer and Community Commitment Award. This award nationally recognizes elite Subaru retailers who provide an exceptional customer experience at every interaction with Subaru. These retailers have also demonstrated an outstanding commitment to supporting passions and causes in their local communities in important areas such as the environment, community, health, education, and pets.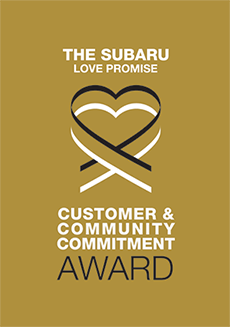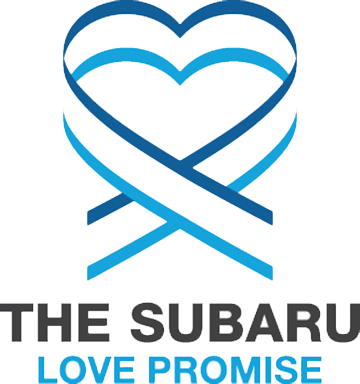 What is the Subaru Love Promise?
Subaru and our retailers believe in making the world a better place and the Subaru Love Promise is our vision of respecting all people. This is our commitment to show love and respect to our customers and to work to make a positive impact in the world.
How is Earl Duff Subaru dedicated locally to the Love Promise?
Our Love Promise can be seen in various partnerships with local charities and non-profits. We're grateful for the opportunity, not only to be a part of our community, but to serve it as well.
Roane County Humane Society
C.A.S.A, Courts of Praise Food Bank
Love Promise Stories from Earl Duff Subaru
Subaru and Earl Duff Subaru believe in making a positive impact on the communities in which we live and work. We uphold that belief through our Love Promise Community Commitment. Every month, we select inspiring stories from customers and partners from around our area who strive to support our collective commitment and feature them here
I Speak for Them - CASA of the Tennessee Valley C
In the midst of a desperate time in her life, a mother let her boyfriend (the children's father) care for her children. The father and mother were never married. These two children were only 3 months and 2yrs of age. The children were left with their father who lived in a town miles away from their mother. The Father filed for custody soon after receiving physical custody of the children. When the Father filed for custody the Judge ordered CASA into the home to see exactly what was going on. The CASA Advocate started their investigation. The CASA Advocate conducted home studies at the Father's home and did a routine background checks. These background checks showed several concerning findings. The advocate diligently searched through medical records for these children and found that these children had not been to the doctor for a well check or immunizations, these children had been medically neglected. After everything that was found and checked by the advocate, there was a court date. The CASA Advocate put into their report findings all that they had gathered and made court recommendations for the father and mother to be drug tested at court. The mother and the father showed up for the hearing. The Judge ordered both to be tested and the test results that day were positive for cocaine, heroin, and marijuana. The children were then put into the states custody. Because of the proactive and watchful actions of the Roane County CASA advocate, these children are up to date on their medical needs and being loved and cared for by some great foster parents.
---
Girls Inc. Appreciates Earl Duff Subaru - Kirby D
Girls Inc. of TN Valley is a proud to partner with Earl Duff Subaru to continue to inspire girls in our community to be strong, smart, and bold! Earl Duff supported our Girls Inc. programs last year during the COVID-19 pandemic, and continued to help us and support our programs financially through a very difficult year. We are so excited that they have continued their support for the 2021 year to help us continue to support highest need girls in our community through education and empowerment initiatives!
---
Big thank you to Earl Duff Subaru! - Stacey W
With their ongoing support, we have been able to rehome so many pets and help get them vetted! Through donations from Earl Duff Subaru and grants sponsored by Subaru and the ASPCA, we have been able to help Roane County Animal Shelter pets have healthier and happier lives. We have been able to spay and neuter, rabies vaccinate and even cover adoption fees for our adopters. Education and resources we have been able to provide along with the help from Earl Duff Subaru and the ASPCA has improved our whole county, and many folks have joined us on our mission to reduce the number of strays in our area. Together, we are making a difference, one pet at a time! Here's a happy tale from one of our adopters: "Just wanted to say a quick thank you again!! Our Luna is sooooo loved already!!! She's an absolute perfect matching puzzle piece for us, that we didn't even know we needed!!"
---
Subaru supports Roane County Students - Nancy C
These are hard times for so very many Roane County students and families. Schools have become the front line access point to many families and children who need help. Earl Duff Subaru reached out to the Family Resource Center at Roane County Schools to see how they can help. They were given a wish list of items students often need to come to school, learn and be successful. We were provided with an entire carload of needed supplies. This included toiletry items, socks and underwear, and gas cards. Many of our students need to attend specialist doctor appointments and mental health services in Knoxville and the family often doesn't have the money for gas to and from these essential services. The items donated will be added to the Family Resource Room that serves all 17 Roane County Schools through the Student Support department. Thanks Earl Duff Subaru for generously reaching out to us to serve our students and families!!!
---
Imagine Your Story - Connie M
Earl Duff Subaru Harriman, TN supports the arts & continuing education of children in our community. Even during a pandemic, Tim Duff made sure to promote and provide ways for the children to enjoy our summer reading program, "Imagine Your Story". The children were unable to come physically to the library, but were able to enjoy it online in the safety of their homes. Thank you Tim Duff/Earl Duff Subaru for your continuing love & educational well being of our children. You are a blessing to Harriman! Sincerely, Connie Massingill Harriman Public Library Children's Librarian/Assistant Director
---
Helping Hungry Families - Nancy C
Roane County TN Schools' Family Resource Center was very pleased to collaborate with Earl Duff Subaru in Harriman, TN to feed hungry families in our community. On May 20, 2020 Earl Duff Subaru partnered with the RCS Family Resource Center, Compassion Ministries, and Second Harvest of East Tennessee to create emergency food boxes.Because children and families were not able to come into the school due to COVID-19, a drive up food distribution provided much needed food to 100 local families. Because of Earl Duff Subaru, families from all over our county were able to safely drive up to Midtown Educational Center and receive much needed food during this difficult time. All of our lives have been disrupted by this pandemic. Thanks in part to Earl Duff Subaru, families don't have to feel alone. Together we can help students and families in such a clear and tangible way. Hope for a better future and compassion for our struggling families is alive in East Tennessee!
---
Make A Wish East Tennessee - Garrett W
I wanted to take this opportunity to send our sincerest thanks to everyone at Earl Duff Subaru for supporting the 2019 Share The Love Event. Please share my thanks with Tim and the whole team. Your dealership raised more than $2,300 for Make-A-Wish. We'd love to come by and do a check presentation to celebrate the 2019 contribution. As you know, Make-A-Wish was one of the four national charities that benefitted from Share The Love last year, but what you might not realize is that Make-A-Wish East Tennessee, right here in your neighborhood, receives the funds raised locally. These funds are used to help grant wishes for kids like Lydia, age 17, who wished to have a French bulldog. There's more information about Lydia's wish attached. We are thrilled to be one of four national charities participating in 2020's Share The Love event. We'd love to work with you and your team to coordinate an event in support of Share The Love this November or December. We have several ideas for ways in which we can help drive traffic to your dealership and increase awareness of the incredible commitment Subaru has to helping support local communities and local wish kids. With COVID-19, new health worries are also present, bringing added isolation and vulnerability for wish kids and their families. While fighting their illness, children are now anxiously counting the days until their wish will be granted. Now more than ever, hope is essential. Thanks to the support from Subaru of America and Subaru retailers across the country, just like you, we were able to grant more than 2,500 wishes the past nine years. We look forward to working together this year to bring experiences of hope and joy to waiting wish kids in East Tennessee. Please let me know when you'd be available to set up a call to discuss ideas for the 2020 Share The Love event. Thank you for all that you do to help make wishes come true. Sincerely, Garrett Garrett Wagley CEO Make-A-Wish® East Tennessee
---
Make a Dog's Day - Andy A
Subaru is proud to establish the first-ever National Make A Dog's Day October 22nd. As part of Subaru Loves Pets month, we're inviting all dog lovers to do something extra special for their furry best friends. Plus, Subaru will be focusing our efforts on helping the hardest-to-adopt shelter Dogs –those with special needs-find homes. Get ready to fall in love withThe Underdogs. #MakeADogsDay Meet Gabi! Gabi has been at the Humane Society of NWGA (Northwest Georgia) for seven years. If you asked the volunteers to pick their favorite animal at the shelter, Gabi would win hands down. She does not do well with dogs or cats so must be the only animal in an adult only family. She loves people and will bond very quickly to you. Gabi would make someone a great companion. She is waiting patiently for her forever home. If you have room in your heart and your home for this sweet girl then please fill out an adoption application, highlight and right click this link: https://hsnwga.org/adoption/application-for-adoption/?fbclid=IwAR2Ie18p6U3ryKi-niIuIZFTd-waD98xrySl7IJmiRBXE239WP7dpODubiU #MakeADogsDay #SubaruLovesPets #TheUnderdogs
---
Earl duff Subaru and Harriman Public Library - Connie M
Each year, the Harriman Historic Carnegie Library has a summer reading program. Tim Duff from Earl Duff Subaru in Harriman, TN has a great love for kids continuing their education throughout the summer months. He funded our program and made it possible for over 150 children to continue their love of reading. They are the most generous and caring of any dealership I have come in contact with. They care and it shows! Thank you and may you greatly be blessed! Connie Massingill/Children's Librarian
---
Earl Duff Subaru Outstanding Community Partner! - Heather F
Ten years ago CASA of the Ninth Judicial District was formed to recruit and train citizen volunteers who advocate for abused and neglected children in the juvenile court system in Morgan, Roane and Loudon counties. Most of these children have suffered enough abuse or neglect that they have been removed from their homes. A CASA volunteer Advocate is a "guardian angel" for that child. The volunteer becomes the voice for that child to make sure their wishes are heard, assists in ensuring that child is in a safe, permanent, loving home as quickly as possible and makes sure that child has all the services he or she needs to thrive and succeed in life. Earl Duff Subaru's support of CASA has made all the difference to the success of our mission. For ten years Earl Duff Subaru has partnered with CASA of the Ninth Judicial District and helped us through annual Share The Love donations, sponsorship of fundraisers, and participation in other events. Earl Duff Subaru has donated thousands of dollars to our program, enabling CASA to train 102 volunteers who helped 645 children over the last ten years in our community. CASA of the Ninth Judicial District and those 645 children would like to thank Earl Duff Subaru for their partnership and support through the last 10 years. Because of Earl Duff, we are closer to our mission of providing every child who is a victim of abuse or neglect with a highly trained, caring, compassionate adult who can truly make a difference in their lives.
---
"Community Outreach" Success Story by Duff Subaru - Phyllis J
Earl Duff Subaru is a Roane County business that helps educate students by supporting community outreach. Midway Middle School (Roane County Schools) introduces our adolescent students to the world of career choices, life skills, and financial literacy through our 8th-grade exploratory classes. The classes are a combination of classroom instruction and guest speakers from our community. I reached out to Darrell Fink, Sales Manager of Earl Duff Subaru, to see if he would be interested in sharing his career journey, his position responsibilities at Earl Duff Subaru (Sales Manager), and job opportunities available at auto dealerships. Mr. Darrell Fink went above and beyond as a guest speaker for us. Not only did he establish a great rapport with the class, answered questions, kept the students entertained and informed, but he also provided backpacks and sunglasses that he obtained from Subaru Corporate contacts for the audience. Below is our Midway Middle School Facebook post (1-17-19) that we shared with our students, parents, and followers on Facebook. "Thank you, Mr. Darrell Fink, Sales Manager of Earl Duff Subaru, for sharing your career journey with our 8th grade "Life Skills/Careers" exploratory class. Students in middle school never realized that their spending and money management habits are "graded" and it is called your "credit score." They thought that when they finished school, they were finished with grades except for performance evaluations from their employer. Your information about "credit scores," borrowing money, and purchasing automobiles was a real eye-opener for most of them. Your advice to not spend money that you don't have, learn something from everyone you meet, enjoy your job, and match your personality to your job choice, resonated with the class. Thanks!"
---
Harriman Historic Carnegie Library 2018 SRP - Connie M
Earl Duff Subaru is committed to the children of Roane County. For the past three years, Tim Duff and his team have supported our Summer Reading Programs at the Harriman Historic Carnegie Library. They have made it possible for kids to continue to read and learn throughout the summer months. Kids who continue to read will succeed! Because of their commitment to the kids, I bought my car from them! I tell everyone what they have done for the kids. From bicycles, to bounce houses, to performances, to computers, to keyboards, guitars, leap pads and more! I am proud to have Earl Duff Subaru in Harriman,Tennessee! You ROCK!
---
A blessed life with a lot of living yet to do..... - Judi C
I am new to the Subaru world tho I have been giving serious thought to this purchase for a few years now which I think that with my passions, this will be the perfect car for me. After retiring from my job of 30 years which I can't not say enough how blessed I have been to have had a job that let's you retire at a younger age with full benefits, I scored the best job ever which is working with Hospice patients....I place volunteers in their lives to help support the patients and their families during one of the most difficult times of their lives. Also, both personally and professionally, I am also a MONSTER advocate for our Veterans. It is my mission to make sure they are honored for their service and that they die with dignity and not alone. I find it a blessing and an honor to meet and celebrate the lives of those who fought selfishly for our freedom. And what better vehicle to get me to the homes of each of our patients. I have also joined an amazing group of people (Quilts of Valor) who make beautiful quilts to present to our Veterans to thank them for their service and to help heal. I can't sew yet but I am learning and I needed one cool vehicle to help me get that machine to our meetings. I joined, like Subaru, because I believe in giving back! My personal life, I am a traveler ... Oh, do I travel! And for what? It's all about the music! I love my music and attend concerts all over the country. And it must ROCK before I ROLL! I needed something that I knew could get me there safely and me still be COOL!!!! It was the Harman Kardon stereo that sold the 2018 Crosstrek for me. It's almost like you read my mind..... When I walked into the dealership where I bought my car and saw the presentation of all the charities Subaru supports (most of which I already do too), I knew I was making the right decision and honestly, didn't care at that point if there was a better deal, I was exactly where I needed to be (Earl Duff) and that Rocky was the person I wanted to 'trade' with ....... I can't wait to see what the next part of where my life goes but I plan on introducing this vehicle to every Veteran I encounter and honor, while supporting hospice families, driving a lot miles traveling from show to show and meeting some of the other cool members of the Subaru family..... I think that with Subaru's passions to give back and mine and the need for adventure means we are a perfect match! I LOVE MY CAR! So, my story ..... it got many more chapters before it's finished and thrilled you guys are along for the ride. Thanks for asking and I promise to represent you well and with loads of photos! ......... Judi
---
Life is important - Elizabeth B
I was diagnosed in 2004 with Promylocytic leukemia. On Aug. 1, 2004 I coded at that time I was 33 years old, it was one day before my birthday. So what I am saying, and your saying what is the issue. Well one is life, 2 is show everyone that your a fighter. So don't give up. In my picture I have my survivor shirt on 13 years, and with the purple hair.
---
Subaru Loves Learning Book Drive August 1 - 31 - Danielle S
Join us in our Subaru Loves Learning initiative during the month of August! We are partnering with the American Association for the Advancement of Science (AAAS) in donating science books to Harriman Middle School in the Roane County school district. All of the books that will be donated have been recognized by AAAS as some of the best science books in their field. Contact us to learn more information.
---
Saving the World! - Benjamin R
As part of the Subaru Love Promise Event, for the month of April, Earl Duff Subaru called on it's amazing customers and community for our "E-Waste Recycling Event". We invited everyone to drop off old TVs, unwanted computers and other discarded electronics to be recycled. As always, our great customers came through once again and filled two giant 4'x4' boxes with old electronics! It took 4 men to load it all on the truck! Earl Duff Subaru is so proud to be representing a brand like Subaru, who takes environmental responsibility so seriously by offering everyone easier accessibility to do their part!And thanks to our amazing customers for their donations that helped keep over 1,000 lbs of recyclable materials out of landfills!
---
C.A.S.A Parternership - Cindy L
Earl Duff Subaru is dedicated to making our community a better place and helping children in need. Here at Earl Duff Subaru, with our dedication to C.A.S.A. of the 9th Judicial District, we were able to raise money for children in need. C.A.S.A. works extremely hard to recruit, train, and supervise volunteers to serve the best interest of abused and neglected children in the family courts. Earl Duff Subaru once again chose C.A.S.A. as our local charity for the annual Share the Love Event. We hit a new all time record and raised over $10,000 to donate to this great organization! We are so very proud and thankful, to have such a great Subaru family that contributed to reaching this outstanding feat! If anyone would like to make a donation or become a volunteer to C.A.S.A. of the 9th Judicial District, please contact Earl Duff Subaru in Harriman, TN, and we will most certainly get you all of the information necessary to donate or volunteer! Earl Duff Subaru is so proud to be involved with such a great organization and will continue to be a partner for many years to come and help improve the future of the youth in our community! Earl Duff Subaru will continue to partner with C.A.S.A. and other local charity organizations to better our community!
---
April 1-30, 2015 E-Waste Recycling Event - Molly M
Throughout the month of April, we are hosting an E-Waste Recycling Event in our store to collect unwanted electronics. We've arranged to work with a company who will responsibly collect, re-purpose, and recycle your electronic waste. Help us protect our environment. Just show up with your E-Waste and we'll do the rest! The first 50 customers who contribute will receive a complementary environmental badge of ownership. We will accept: LCD Monitors, Cell Phones, Laptops, Tablets, CRTs up to 40 inches, Video Games/Consoles, Fax Machines, DVD/VCR Players, Printers, Computer Peripherals, Switches/Routers, Cords and Wires.
---